Hearing loss among teens has been on the rise in recent years, with 1 in 5 teens now living with some form of hearing impairment. For many teen sufferers, the psychological and social impact of facing hearing difficulties can be immense. This makes everyday life more complex and can lead to numerous long-term issues such as anxiety, depression, and even a reduced sense of personal security. In this post, we'll explore some of these impacts and suggest ways to help support those affected by hearing loss.
Isolation
Hearing loss can be particularly isolating for teens. The inability to follow conversations and understand what's being said in the classroom or among friends can lead to feelings of alienation and exclusion. Teens with hearing loss may avoid large group situations where they feel unable to participate, such as lunchtime at school or after-school activities.
The social isolation associated with hearing loss can also lead to other psychological issues, such as depression and anxiety. You may find your teen withdrawing from social situations and avoiding conversations.
Anger and Frustration
Hearing loss can lead to frustration as the person finds it difficult to understand what's being said or misinterpreted. This can result in emotional outbursts, mainly when misunderstandings occur. Teens with hearing loss often struggle with verbal communication and can become angry or frustrated when they feel misunderstood. You may find that your teen is becoming more aggressive or argumentative due to their hearing loss. Remembering that this behavior isn't necessarily intentional and could signify frustration.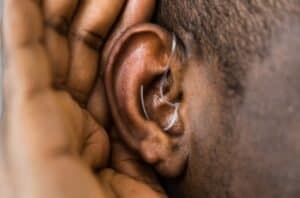 Low Self-Esteem
Hearing loss can lead to low self-esteem in teens as they struggle to fit in with their peers. The fear of being judged or excluded can cause them to withdraw further, leading to feelings of loneliness and rejection. In addition, teens with hearing loss may feel embarrassed or ashamed about their condition.
This can lead to a lack of confidence which can be challenging to overcome. You can talk to a professional audiologist or psychologist specializing in hearing loss to help your teen build their self-esteem and confidence. Companies like HearCanada offer various hearing loss treatments and support services to help teens deal with their hearing loss. From hearing aids to counseling, your teen will get the help they need to cope and adjust to their hearing loss.
Reduced Academic Performance
Academic performance has been closely linked to hearing loss in teens. Hearing difficulties can impact a teen's ability to understand spoken instructions, follow directions and comprehend lectures. This can negatively affect their grades and overall academic performance. It's important to remember that hearing loss isn't the only factor in academic performance. However, additional support and accommodations may be necessary for those teens struggling with hearing difficulties to help them reach their potential.
Cultural Disconnect
Teens need to feel connected to their community and culture to thrive. Hearing loss can make it difficult for them to access cultural activities or experiences, such as music festivals or places of worship that require hearing ability. This disconnection can impact their mental health, as the teen cannot fully participate in social activities or engage with their peers and community.
Hearing loss has a significant impact on teens, both physically and emotionally. It's important to remember that you are not alone in this journey. A range of hearing loss treatments is available to help teens manage their condition and stay connected to the world around them. Hearing aids, cochlear implants, and other assistive devices can make it easier for those with hearing loss to access cultural events and experiences. With the proper support, teens with hearing loss can still lead happy lives.